Er verschijnen ieder jaar zo veel boeken en ik kan ze bij lange na niet allemaal lezen. Vandaag heb ik een lijstje met boeken die ik ga proberen dit jaar te lezen.
The song rising van Samantha Shannon
The hotly anticipated third book in the bestselling Bone Season series – a ground-breaking, dystopian fantasy of extraordinary imagination
Following a bloody battle against foes on every side, Paige Mahoney has risen to the dangerous position of Underqueen, ruling over London's criminal population.
But, having turned her back on Jaxon Hall and with vengeful enemies still at large, the task of stabilising the fractured underworld has never seemed so challenging.
Little does Paige know that her reign may be cut short by the introduction of Senshield, a deadly technology that spells doom for the clairvoyant community and the world as they know it…
The Bone season is een van de tofste fantasy series die ik gelezen heb. Het liefst ga ik die dit jaar nog herlezen en dan Song rising er direct achteraan lezen.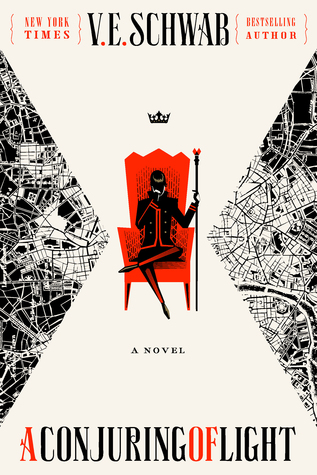 A Conjuiring of light van Victoria Schwab
Witness the fate of beloved heroes – and enemies.
THE BALANCE OF POWER HAS FINALLY TIPPED…
The precarious equilibrium among four Londons has reached its breaking point. Once brimming with the red vivacity of magic, darkness casts a shadow over the Maresh Empire, leaving a space for another London to rise.
WHO WILL CRUMBLE?
Kell – once assumed to be the last surviving Antari – begins to waver under the pressure of competing loyalties. And in the wake of tragedy, can Arnes survive?
WHO WILL RISE?
Lila Bard, once a commonplace – but never common – thief, has survived and flourished through a series of magical trials. But now she must learn to control the magic, before it bleeds her dry. Meanwhile, the disgraced Captain Alucard Emery of the Night Spire collects his crew, attempting a race against time to acquire the impossible.
WHO WILL TAKE CONTROL?
And an ancient enemy returns to claim a crown while a fallen hero tries to save a world in decay.
Ik heb hier al honderd pagina's in gelezen maar de timing is nooit goed geweest om door te gaan. Ook al is het verhaal zooo ontzettend tof!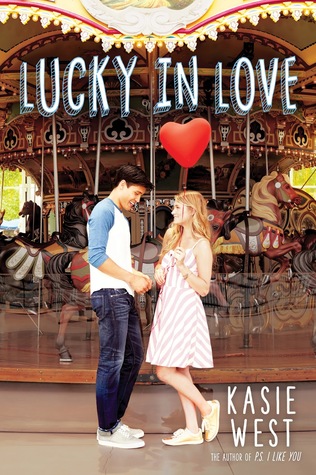 Lucky in love van Kasie West
Can't buy me love…
Maddie's not impulsive. She's all about hard work and planning ahead. But one night, on a whim, she buys a lottery ticket. And then, to her astonishment—
She wins!
In a flash, Maddie's life is unrecognizable. No more stressing about college scholarships. Suddenly, she's talking about renting a yacht. And being in the spotlight at school is fun…until rumors start flying, and random people ask her for loans. Now Maddie isn't sure who she can trust.
Except for Seth Nguyen, her funny, charming coworker at the local zoo. Seth doesn't seem aware of Maddie's big news. And, for some reason, she doesn't want to tell him. But what will happen if he learns her secret?
Een nieuw Kasie West boek, die kunnen we natuurlijk niet negeren.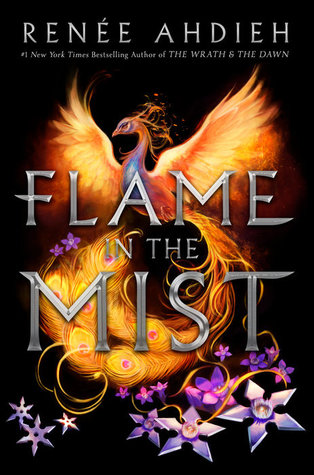 Flame in the mist van Renee Ahdieh
The only daughter of a prominent samurai, Mariko has always known she'd been raised for one purpose and one purpose only: to marry. Never mind her cunning, which rivals that of her twin brother, Kenshin, or her skills as an accomplished alchemist. Since Mariko was not born a boy, her fate was sealed the moment she drew her first breath.
So, at just seventeen years old, Mariko is sent to the imperial palace to meet her betrothed, a man she did not choose, for the very first time. But the journey is cut short when Mariko's convoy is viciously attacked by the Black Clan, a dangerous group of bandits who've been hired to kill Mariko before she reaches the palace.
The lone survivor, Mariko narrowly escapes to the woods, where she plots her revenge. Dressed as a peasant boy, she sets out to infiltrate the Black Clan and hunt down those responsible for the target on her back. Once she's within their ranks, though, Mariko finds for the first time she's appreciated for her intellect and abilities. She even finds herself falling in love—a love that will force her to question everything she's ever known about her family, her purpose, and her deepest desires.
Ik heb zo veel over deze auteur gehoord. Flame in the mist is geen boek om zomaar te negeren. Jullie zullen hem sowieso nog wel voorbij zien komen.
Tower of dawn van Sarah J. Maas
Chaol Westfall has always defined himself by his unwavering loyalty, his strength, and his position as the Captain of the Guard. But all of that has changed since the glass castle shattered, since his men were slaughtered, since the King of Adarlan spared him from a killing blow, but left his body broken.
His only shot at recovery lies with the legendary healers of the Torre Cesme in Antica—the stronghold of the southern continent's mighty empire. And with war looming over Dorian and Aelin back home, their survival might lie with Chaol and Nesryn convincing its rulers to ally with them.
But what they discover in Antica will change them both—and be more vital to saving Erilea than they could have imagined.
Zelfde verhaal als bij Conjuiring of light. Beiden staan op mijn asap TBR, boeken die ik op de korte termijn wil gaan lezen.
The becoming of Noah Shaw van Michelle Hodkin
In the first book of the Shaw Confessions, the companion series to the New York Times bestselling Mara Dyer novels, old skeletons are laid bare and new promises prove deadly. This is what happens after happily ever after.
Everyone thinks seventeen-year-old Noah Shaw has the world on a string.
They're wrong.
Mara Dyer is the only one he trusts with his secrets and his future.
He shouldn't.
And both are scared that uncovering the truth about themselves will force them apart.
They're right.
Ik ben echt verliefd op de Mara Dyer seri. The becoming of Noah Shaw is toch het perfecte excuus om de hele serie te herlezen?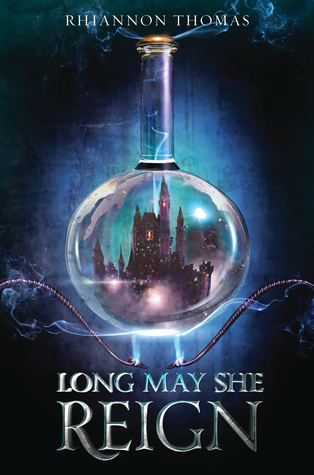 Long may she reign van  Rhiannon Thomas
Freya was never meant be queen. Twenty third in line to the throne, she never dreamed of a life in the palace, and would much rather research in her laboratory than participate in the intrigues of court. However, when an extravagant banquet turns deadly and the king and those closest to him are poisoned, Freya suddenly finds herself on the throne.
Freya may have escaped the massacre, but she is far from safe. The nobles don't respect her, her councillors want to control her, and with the mystery of who killed the king still unsolved, Freya knows that a single mistake could cost her the kingdom – and her life.
Freya is determined to survive, and that means uncovering the murderers herself. Until then, she can't trust anyone. Not her advisors. Not the king's dashing and enigmatic illegitimate son. Not even her own father, who always wanted the best for her, but also wanted more power for himself.
As Freya's enemies close in and her loyalties are tested, she must decide if she is ready to rule and, if so, how far she is willing to go to keep the crown.
Als dit niet ontzettend tof klinkt dan weet ik het niet meer. Kijk die cover ook even hallooo beauty.
Duizelingwekkende hoogte van Katherine McGee
New York, 2118. In Manhattan staat een wonderlijke supertoren van wel duizend verdiepingen. Leda, Watt, Rylin, Avery en Calliope genieten van een futuristisch glamourleven in de toren vol met hightech snufjes, maar ze houden gevaarlijke geheimen verborgen. Zonder dat ze het doorhebben, worden de vijf tieners in de gaten gehouden door iemand, iemand die wraak wil nemen. In een wereld van duizelingwekkende hoogtes kan één verkeerde stap een lange val betekenen.
Duizend Hoog vond ik zelf best wel tof, maar ik was een soort van vergeten dat het vervolg er al was. Een nieuw jaar, nieuwe kansen denk ik dan maar.
De nieuweling van Taran Matharu

Als smidsleerling Fletcher ontdekt dat hij demonen uit een andere wereld kan oproepen, reist hij samen met zijn demon Ignatius af naar de Vocans Academie.
Daar worden leerlingsummoners getraind in het gebruik van hun magische gaven, om deze in te kunnen zetten in de oorlog tegen de vijandelijke orks. Onder de leerlingen bevinden zich de kinderen van machtige edelen, die meer ervaren zijn in het omgaan met hun demonen en zich ver boven Fletcher en de andere burgerleerlingen verheven voelen. Samen met zijn vrienden, de dwerg Othello en de elf Sylva, raakt Fletcher verzeild in een gevaarlijk machtsspel, dat een hoogtepunt bereikt als er aan het eind van het eerste jaar moet worden gestreden om een machtige positie in de Raad van de Koning. Het lot van een heel koninkrijk ligt in zijn handen.
As we speak ligt het boek gewoon al naast mij, maar waarom ik er nog niet aan begonnen ben weet ik eigenlijk ook niet.
Muggenland van David Arnold
Ik ben een verzameling van rariteiten, een circus van neuronen en elektronen: mijn hart is de circusdirecteur, mijn ziel is een trapezeartiest en de wereld is mijn publiek. Het klinkt vreemd, want dat is het, en dat is het, omdat ik vreemd ben.
Het leven van Mim Malone staat op zijn kop. Haar vader en nieuwe stiefmoeder besloten te verhuizen, waardoor Mim opeens in de wastelands van Mississipi woont, in plaats van haar vertrouwde Ohio. En voordat deze storm goed en wel is gaan liggen, hoort ze dat haar moeder ziek is geworden.
Mim laat haar nieuwe leven achter zich en stapt in een Greyhound-bus richting het noorden, naar haar échte thuis en échte moeder. Als haar duizenden kilometers lange reis opeens anders loopt dan verwacht, moet Mim de strijd met haar eigen demonen aangaan, met een beetje hulp van een paar bijzondere medereizigers.
Ik vind Kids of Appetite echt heel tof maar ben een klein beetje bang dat Muggenland een beetje tegen gaat vallen. Ben er een klein beetje bang voor. Daarom ben ik er nog niet aan begonnen.
Circus Cesaria van Sanne Hillemans
Een tragisch verlies heeft ervoor gezorgd dat Noah zijn verdriet al wekenlang in alcohol verdrinkt. Als hij een baan aangeboden krijgt bij een reizend circus, ziet hij geen reden om niet te gaan. Deze drastische verandering kan precies zijn wat hij nodig heeft.
Er lopen veel interessante mensen rond op het circusterrein, maar degene die eruit springt, is een meisje van zijn leeftijd dat voor iedereen een glimlach klaar heeft. Terwijl haar aanwezigheid hem uit een donkere put trekt, lijkt zijn nabijheid het tegenovergestelde effect op haar te hebben.
Eens een keer wat anders: een boek van Nederlandse bodem. Waarom ik mij hier nog niet aan gewaagd heb? Ik weet het eigenlijk ook niet.
Phobos 3 van Victor Dixen
Einde van het Genesiskanaal
Nog één maand…
Nog één dag…
Nog één uur…
De twaalf schipbreukelingen op Mars werken mee aan het in stand houden van een gruwelijke leugen. De kijkers van het programma hebben geen idee in hoeveel gevaar ze zich bevinden.
Léonor is bereid haar leven te geven om de wereld te redden. Maar is er nog wel genoeg tijd…?
Waar Phobos 2 een klein beetje tegenviel ben ik heel erg benieuwd naar het vervolg.
Welk boek zal ik als eerste gaan lezen en welke willen jullie nog lezen?